"The way we think about charity is dead wrong"
July 8, 2013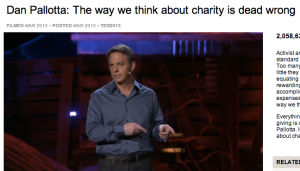 Frugality should not be equated with morality, and yet it often is in our society's "broken relationship" with nonprofits.  This is the thesis presented by activist and fundraiser Dan Pallotta in a March 2013 TED Talk.
Pallotta proposes that this double standard stems from Puritan ideology. The material success that resulted from Puritans' aggressive capitalism in the New World was at odds with their Calvinist values; due to this tension, they turned to charity as an economic sanctuary, a penance.
Flash forward a few hundred years to a society that continues to value capitalism and charity, and yet holds each to different standards.  Pallotta asserts that "social problems are massive in scale, our organizations are tiny up against them, and we have a belief system that keeps them tiny.  We have two rule books: one for the nonprofit sector and one for the rest of the economic world."  He goes on to describe the five ways in which nonprofit organizations are discriminated against: compensation, advertising and marketing, taking risk on new revenue ideas, time, and profit to attract risk capital.
He acknowledges that while capitalist markets and social enterprises will be an important part of creating solutions to social problems moving forward, philanthropy will always serve a crucial role as "the market for those people for whom there is no other market coming."
View the full TED talk (18 minutes) here.
Update: this video has received over 2 million views, and many responses in favor, against, and somewhere in between.  View some of these responses here, here, and here.
---