Giving USA 2013 Report Highlights
June 25, 2013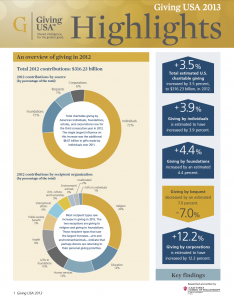 In this post, we take a step back to report on past and projected trends in philanthropy.   Each year, the Lilly Family School of Philanthropy at Indiana University releases the Giving USA report, an annual report on philanthropy for the past year.  Below are some key findings from the 2013 report – released last week – as well as a link to additional highlights.
The report found that charitable contributions from foundations, corporations, and individuals totaled slightly more than $316B in 2012, which represents an increase of 3.5% from 2011.  While this is no small sum, the Chronicle of Philanthropy notes that this is a "far cry from the $344B raised in 2007, before the recession hit, and a sign that unless the economy heats up — and giving along with it — it will be 2018 before charities and foundations can expect a full recovery."  After adjusting for inflation, donations from individuals, corporations, and foundations are still 8.2% below their peak just before the recession started in 2007.
Here are some additional key findings from Giving USA and the Chronicle of Philanthropy:
Giving by individuals, foundations, and corporations increased in 2012 (+3.9%, +4.4%, and +12.2% estimated, respectively).  The sharp growth in corporate giving could be tied to record profits for companies in the second half of 2012.
Contributions to colleges, universities, and private schools rose by nearly 5%.

Billionaire donors giving at record levels: according to the Chronicle's database that tracks donations of $1M or more, the number of gifts amounting to $100M or more to date in 2013 has already exceeded the number of gifts of this level made in both 2009 and 2010.

Nonprofits with the strongest fundraising projections for the coming years tend to be spending more on fundraising in this time when many are cutting back, and are making innovations in how they attract gifts and diversifying their sources of revenue.
Sources: Giving USA 2013; Chronicle of Philanthropy 6/17/13
---